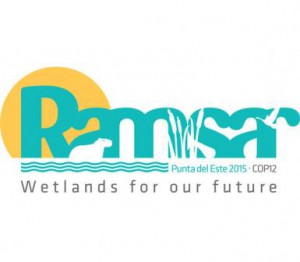 The 12th Meeting of the Conference of the Contracting Parties to the Ramsar Convention on Wetlands (COP12) will be held in Punta del Este at the Conrad Resort, Uruguay, from 1 to 9 June 2015. Please note that:
the 49th meeting of the Standing Committee is planned on 1 June, and
regional meetings will take place on 2 June
The theme of the conference is Wetlands for our Future.
Ramsar Contracting Parties − the member states − will gather to assess the progress of the Convention and the sustainable use of wetlands to date, share knowledge and experience on technical issues, and plan their own work and the Secretariat's for the next triennium.
As well as official delegations from the Contracting Parties, other nations are eligible to participate in the COP as observers as are also delegations from other nations and representatives of intergovernmental organizations eligible, as well as recognized non-governmental organizations working in the field of wetland conservation and sustainable use, and of government agencies that are not part of their country's official delegation.