Business and Enterprise

Business and enterprise have a huge role to play in how we manage, safeguard and invest in our natural capital. TEEB in Business and Enterprise provides important evidence of growing corporate concern about biodiversity loss, and offers examples of how leading companies are taking action to conserve biodiversity and restore ecosystems.
This report is for a wide array of enterprises, including those with direct impacts on ecosystems and biodiversity, such as mining, oil and gas and infrastructure; for those businesses that depend on healthy ecosystems and biodiversity for production, such as agriculture and fisheries; for industry sectors that finance and undergird economic activity and growth, like banks and asset managers, as well as insurance and business services; and for businesses that are selling ecosystem services or biodiversity-related products such as eco-tourism, eco-agriculture and bio-carbon.
We look at the indications and drivers of biodiversity loss and ecosystem decline, and show how these present both risks and opportunities to all business. The international team of authors, led by Joshua Bishop, have reviewed a range of practical tools to manage biodiversity risks in business, and provided examples of how companies are using these tools to reduce costs, protect their brands and deliver real business value.
We explore the emergence of new business models that deliver biodiversity benefits and ecosystem services on a commercial basis, the policy enabling-frameworks needed to stimulate investment and entrepreneurship to realize such opportunities, and the obstacles that must be overcome. We also examine the changing preferences of consumers for nature-friendly products and services, and offer examples of how companies are responding.
In addition we show how businesses can align their actions in relation to biodiversity and ecosystem services with other corporate responsibility initiatives, including community engagement and poverty reduction.
Citation: TEEB (2012), The Economics of Ecosystems and Biodiversity in Business and Enterprise. Edited by Joshua Bishop. Earthscan, London and New York.
The book can be purchased from Routledge here.
DOWNLOAD DRAFT :
[ English ]
More information about the report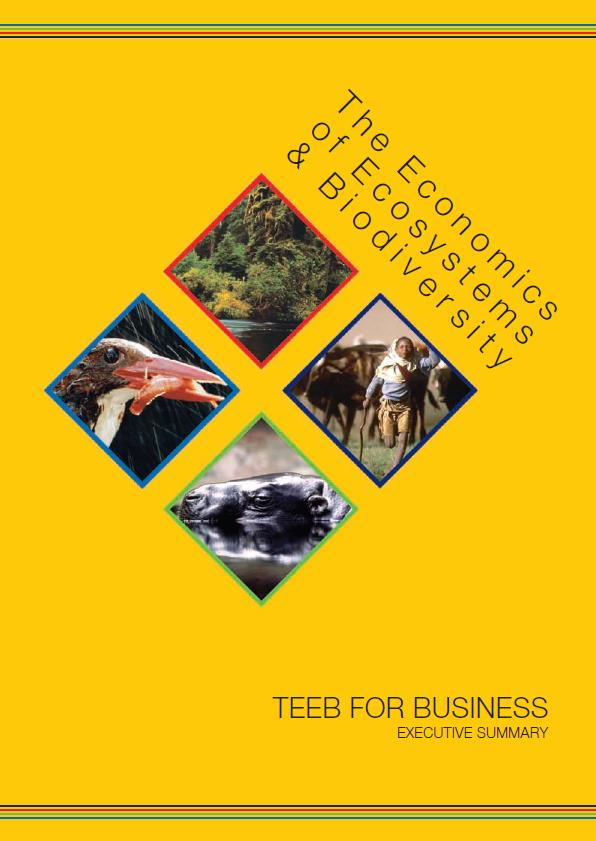 TEEB for Business – Summary: Responding to the value of nature report calls on policy makers to accelerate, scale-up and embed investments in the management and restoration of ecosystems. The report also calls for more sophisticated cost-benefit analysis before policy decisions are made. The report cites a study in south Thailand on the conversion of mangroves into shrimp farms.
Citation: TEEB – The Economics of Ecosystems and Biodiversity for Business – Executive Summary 2010.
Download the Executive Summary :
[ Arabic ] [ Chinese ] [ English ][ French ] [ Korean ] [ Russian ][ Spanish ]